Best Graphics Cards For The Money: February '10
Radeon HD 4850 512MB


Exceptional 1680x1050 performance in most games, 1920x1200 in most games with lowered detail



| | |
| --- | --- |
| Radeon HD 4850 512MB | |
| Codename | RV770 |
| Process | 55nm |
| Universal Shaders | 800 |
| Texture Units | 40 |
| ROPs | 16 |
| Memory Bus | 256bit |
| Core Speed MHz | 625 |
| Memory Speed MHZ | 993 |
| DirectX | DX10.1 |
The Radeon HD 4850 is returning to the ~$100 price point after a brief hiatus, and we hope it lasts. If you're considering this graphics card, buy it while you still can, because nothing in the $100 range can touch it. Availability is waning, and these products probably won't be around much longer now that the Radeon HD 5750 has arrived. On the other hand, bear in mind that the Radeon HD 5750 supports DirectX 11, Dolby TrueHD/DTS-HD Master Audio bitstreaming, and three monitor outputs. Its value might very well be a viable alternative if gaming isn't your exclusive concern.
Best PCIe Card For ~$130
Radeon HD 5750 1GB
Great 1920x1200 performance in most games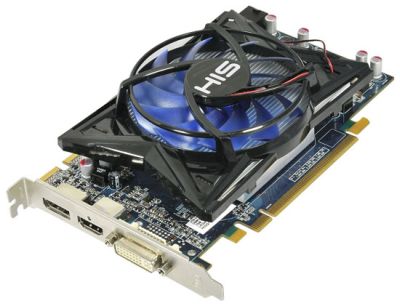 The price of the 1GB Radeon HD 5750 continues to fall, and this month it's enough to take the recommendation from the 1GB versions of the Radeon HD 4850 and GeForce GTS 250. Although it costs a few dollars more, the 5750 is more appealing due to DirectX 11 hardware capabilities. There are other benefits, such as Dolby TrueHD/DTS-HD Master Audio and Eyefinity triple-output support, making this card an easy choice on all fronts.


| | |
| --- | --- |
| Radeon HD 5750 1GB | |
| Codename | RV840 |
| Process | 40nm |
| Universal Shaders | 720 |
| Texture Units | 40 |
| ROPs | 36 |
| Memory Bus | 128bit |
| Core Speed MHz | 700 |
| Memory Speed MHZ | 1150 |
| DirectX | DX11 |