Introduction
In this month's System Builder Marathon $500 PC, we plan to spend every penny (and then some) to strengthen some of the subsystems our last effort left lacking when we knocked $100 off our budget.
The system we set out to build one quarter ago was a low-cost box that would excel in all areas, not just gaming. The resulting machine represented nice platform balance for casual gamers, but certainly wouldn't live up to the expectations of the hardcore enthusiasts who originally wanted to see how low we could go.
As we were quite pleased with the motherboard and processor, we didn't look to spend more on either of these components. We added an affordable cooler and also benefited from AMD's recent Athlon II speed bump, which provided us with an extra 100 MHz for the same cost.
$500 Gaming PC System Components
With the machine's foundation established, we then looked to address the rig's gaming prowess; specifically, the need for more graphics muscle. Rather than gamble and explore the M3A770DE's x16/x4 CrossFire performance, we opted for the safer route of a single card. Finding Sparkle's GeForce GTX 460 768 MB in stock at $160 set the bar a bit higher than we originally anticipated.
Much-welcomed price drops brought four gigabytes of memory well under $100. The cheapest kit fit nicely within our budget, but then meant we could only afford a small bump in storage capacity.
The Antec EarthWatts 380D provided a boost in overall power supply quality, while delivering enough +12 V amperage to keep our overclocked components stable. This power supply was $45 on its own, but could be secured in the NSK 4482B chassis for a total price of $65. Our pricing chart above doesn't reflect the available discount code, so in the end we come in a little over budget. Currently, the cost would be a bit higher, but making some parallel moves that take advantage of holiday savings could bring this machine down under $500.
Processor: AMD Athlon II X3 445
Use of the retail AMD boxed cooler in September's $400 PC capped performance gains from overclocking and unlocking the Athlon II processor. This time we chose an aftermarket cooling solution that was affordable and left greater headroom for pushing voltage and core speed
.
The AMD Athlon II X3 445 sports three 128 KB L1 caches and three 512 KB L2 caches, but lacks the shared L3 cache found in AMD's Phenom II processors. This 45 nm chip offers three processing cores, a 3.1 GHz stock core clock speeds, and solid overclocking potential.
CPU Cooler: Rosewill RCX-ZAIO-92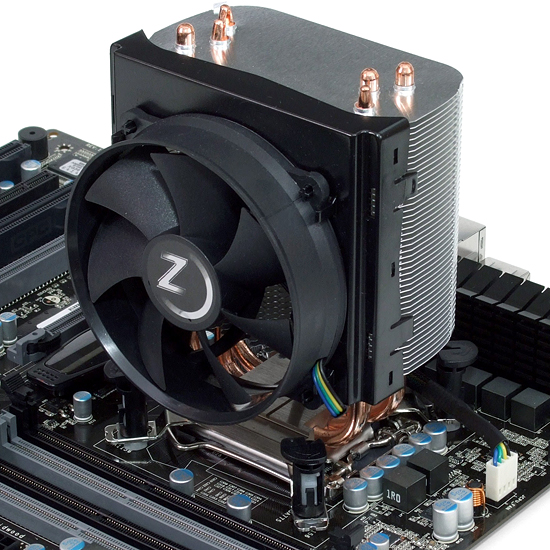 Rosewill's design features a copper base, three copper heatpipes, and aluminum fins, cooled by a variable speed 92 mm PWM fan. Although it's not the quietest or best-performing cooler, it offers a good blend of price, performance, and noise.