Introduction
In this month's System Builder Marathon $500 PC, we plan to spend every penny (and then some) to strengthen some of the subsystems our last effort left lacking when we knocked $100 off our budget.
The system we set out to build one quarter ago was a low-cost box that would excel in all areas, not just gaming. The resulting machine represented nice platform balance for casual gamers, but certainly wouldn't live up to the expectations of the hardcore enthusiasts who originally wanted to see how low we could go.
As we were quite pleased with the motherboard and processor, we didn't look to spend more on either of these components. We added an affordable cooler and also benefited from AMD's recent Athlon II speed bump, which provided us with an extra 100 MHz for the same cost.
$500 Gaming PC System Components
With the machine's foundation established, we then looked to address the rig's gaming prowess; specifically, the need for more graphics muscle. Rather than gamble and explore the M3A770DE's x16/x4 CrossFire performance, we opted for the safer route of a single card. Finding Sparkle's GeForce GTX 460 768 MB in stock at $160 set the bar a bit higher than we originally anticipated.
Much-welcomed price drops brought four gigabytes of memory well under $100. The cheapest kit fit nicely within our budget, but then meant we could only afford a small bump in storage capacity.
The Antec EarthWatts 380D provided a boost in overall power supply quality, while delivering enough +12 V amperage to keep our overclocked components stable. This power supply was $45 on its own, but could be secured in the NSK 4482B chassis for a total price of $65. Our pricing chart above doesn't reflect the available discount code, so in the end we come in a little over budget. Currently, the cost would be a bit higher, but making some parallel moves that take advantage of holiday savings could bring this machine down under $500.
Processor: AMD Athlon II X3 445
Use of the retail AMD boxed cooler in September's $400 PC capped performance gains from overclocking and unlocking the Athlon II processor. This time we chose an aftermarket cooling solution that was affordable and left greater headroom for pushing voltage and core speed
.
The AMD Athlon II X3 445 sports three 128 KB L1 caches and three 512 KB L2 caches, but lacks the shared L3 cache found in AMD's Phenom II processors. This 45 nm chip offers three processing cores, a 3.1 GHz stock core clock speeds, and solid overclocking potential.
CPU Cooler: Rosewill RCX-ZAIO-92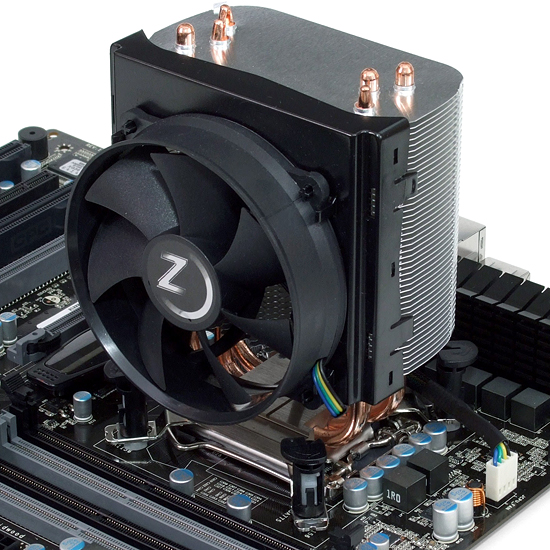 Rosewill's design features a copper base, three copper heatpipes, and aluminum fins, cooled by a variable speed 92 mm PWM fan. Although it's not the quietest or best-performing cooler, it offers a good blend of price, performance, and noise.
Motherboard: ASRock M3A770DE
Based on the AMD 770/SB710 chipset, this inexpensive board has already demonstrated stability, some degree of overclocking potential, and the ability to unlock dormant processing cores. Factor in CrossFireX (limited to x16/x4) and Phenom II X6 support, plus a pair of powered eSATAII/USB connectors, and the $60 price tag looks even sweeter.
It's worth pointing out, once again, that ASRock's use of solid capacitors in key areas of the voltage regulator circuit helps improve lifespan and reliability, at the same time reducing cost compared to vendors who use solid components throughout the design.
Memory: Mushkin Enhanced Essentials 996586
We could have chosen the same two gigabytes of Crucial RAM from September's $400 build, but we instead grabbed this four gigabyte kit of Mushkin for $20 more. This is basic PC3 10600 (DDR3-1333) fare, lacking heat spreaders, and rated at CL9 and 1.5 V.
Graphics Card: Sparkle SXX460768D5UNM
The level of gaming sought for this system would require a potent DirectX 11 graphics solution, and we were thrilled to find the Sparkle SXX460768D5UNM GeForce GTX 460 768MB for $160. This reference clocked Fermi, has 336 CUDA Cores, 192-bit memory interface, and 768 MB of GDDR5 memory. More technical details can be found in our GF104 launch review.
Hard Drive: Samsung Spinpoint F4 HD322GJ/U 320 GB
The Samsung Spinpoint F4 HD322GJ/U 320GB SATA 3.0Gb/s was an attractive option, setting us back a couple bucks less than September's hard drive, while providing a small boost in storage capacity and double(16MB) the cache.
Case: Antec NSK 4482B Black
Antec's gaming enclosures, such as the popular Three Hundred, have frequented many of our System Builder Marathon builds. A couple of years have passed, however, since we've chosen a member of the "Solution" series.
Offering subtle styling and a single tri-cool 120 mm exhaust fan, the NSK 4482 is better suited for general home/office computing, rather than an enthusiast level build. What made the case particularly attractive for our $500 gaming PC is the included 80 PLUS Bronze-certified EarthWatts 380D Green power supply.
Power Supply: Antec EarthWatts 380D Green
Quiet and efficient, the EarthWatts 380D Green offers the kind of value and reliability we seek from a PSU. A single six-pin PCIe power connector means we have to use a Molex adapter for today's build. But a maximum combined +12 V rating of 28 A should be plenty for powering our GeForce GTX 460 graphics card.
Optical Drive: Lite-On 24x DVD Burner SATA iHAS 124-04
At this budget, we're looking to spend as little as possible on a reliable SATA DVD burner, and chose a 24x OEM Lite-On to fill the system's optical needs.
This was yet another simple budget build that went off without a hitch, so there isn't a whole lot to comment on regarding assembly. There are, however, two areas worthy of mention: the CPU cooler and the Antec enclosure.
Cooler installation was rather simple, entailing removal of the attached Intel mounting hardware, application of thermal grease, and clasping down the familiar AMD socket clip. While secure, this clip limits installations to vertical airflow; sufficient, but not exactly ideal in today's installation.
As with many of Antec's original Solution-series enclosures, accessing the internals of the NSK 4482B requires removal of the top panel prior to the side panels. Overall, this is a clean, well-built case, although many of its features aren't exactly geared towards the enthusiast.
For starters, there's no access cutout in the tray, so be prepared to remove the motherboard should the desire arise for an exotic cooler upgrade. This is unlikely to be an issue for the target consumer though, as airflow itself is limited to the one rear 120 mm exhaust fan, and room to add just a single optional 80 mm intake fan behind the front bezel.
Lastly, depending on the individual application, the case could limit the length of add-in cards to 9.5 inches. Our ASRock motherboard uses the 2nd expansion slot for the primary graphics card. While this GeForce GTX 460 is roughly 8.5 inches long, the power leads prevent use of the bottom HDD bay. This is a limitation of the enclosure's fairly small footprint. Though, had Antec shortened the removable 3.5" drive cage to include one less bay, we'd be able to pop in a massive 12" graphics card and had room for a larger intake fan.
http://www.tomshardware.com/reviews/build-a-pc-overclock-athlon-ii-x3,2811-13.html